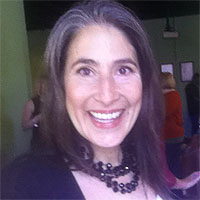 Aliza Sherman is a Web pioneer and has worked as a digital strategist since 1992. She speaks around the world and writes about the Internet, social media, mobile marketing and new technologies, platforms, and apps. She is also known for her focus on women's technology and business issues. Aliza specializes in making tech more accessible to humans.  And yes, she has been known to wear a pink tiara and boa at conferences! Aliza's books include "The Everything Blogging Book," "Streetwise Ecommerce," and "PowerTools for Women in Business." Her 8th book is "The Complete Idiot's Guide to Crowdsourcing" published in July 2011. Her 9th book is "Mom, Incorporated" and was co-written with Danielle Smith. She lives and works in Alaska.
You can read more about Aliza here or here.
You have done so much in your career. What role have you enjoyed the most?
I enjoy being an entrepreneur. I love the freedom, the creativity, and especially the variety. I also enjoy being a writer and public speaker because they provide opportunities to share knowledge, motivate, and inspire. For many years, my LinkedIn account has said "I am the wearer of many colorful hats." This is my way of explaining that I can - and do - play multiple roles in business. I hate feeling trapped or limited. I fully subscribe to the idea that you're "only limited by your imagination." Too many of us try to crowbar ourselves into a single role or very distinct and immutable roles, and then wonder why we are frustrated or dissatisfied. I say break out of predefined roles. Create your own.
You have spoken before about empowering women to be public speakers. What words of wisdom can you share that can help a woman struggling with public speaking?
My efforts to support women as public speakers - and to be a resource to companies, organizations and conferences to help them find and book more female speakers - culminated into a group called Chain of Daisies. Every week, we share speaking opportunities, encourage each other to submit proposals to speak, and are sounding boards when we hit obstacles. From this group, I've learned that we all need mentors as we pursue new things - business mentors are common, but speaking mentors are valuable, too.
Find a mentor, someone whom you've seen speak and whose style you admire. You can also turn to a speaking coach to help you hone your presentation. If you are just starting out, speak often in front of audiences, and start charging right off the bat. Many women tend to speak for free, thinking that is the way to get their foot in the door. I've learned the hard way that each time I agreed to speak for free, the same event organizer was paying my male counterparts. Why? Because they asked to be paid.
And get video. I've been speaking professionally for over 16 years, however, there is very little video available of me speaking, and the footage that is available has poor lighting and sound. My goal for 2012 as a speaker is to make sure I get usable footage of several of my presentations so I can put it up on my website to better demonstrate what I can do. This might mean investing in a professional videographer, but that's something that should pay off enormously.
As a mobile app pioneer, what do you envision for the mobile app market in 2012?
I'm not really a mobile apps pioneer, but I have been called a Web pioneer for my early work on the Web in the 90s. I tend to find myself at the forefront of where new media is going because I'm curious and totally enamored with technology. Maybe it's my longtime love of science fiction, something that has driven my imagination since I was a little girl.
In 2006, I started providing social media marketing consulting. I began looking toward mobile a couple of years ago while everyone else was all aflutter about social media. I'm still interested in location-based social networks, QR codes and mobile apps for marketing, and am keeping an eye on the developments in augmented reality.
Folks in my industry tend to think something is "over" and the media will hype the "end of apps," and yet the rest of the general public is just catching on. There is plenty of room for adoption growth, plenty of opportunity to participate - although if you're an apps developer, you need to be thinking about an overall business model and not just "build a couple of cool apps." As consumers, our expectation is high, but we also experience a lot of frustration because it is hard to find great apps that become ubiquitous for us.
I think mobile apps are still going to be huge in 2012, as well as hybrid blends of sites and apps, apps and the cloud. With the tremendous growth in the tablet computer market, the demand for great apps will increase as well.  Ultimately, techies and the marketers need to be careful about being too enamored with the next "big thing," and understand the huge shift in the way all of us are consuming information, using products, and purchasing things.
We always have to make sure we take our blinders off and really look around. It is never really about the technology. It is about people.
In your book, Mom Incorporated, you focus on giving advice to women on how to take charge of their work/life balance by starting their own businesses. What are some tips you offer women who are eager to start their own business but are hesitant to do so, due to the shaky economy?
The first tip is "Stop using the word 'balance.'" My co-author Danielle Smith and I like to say that "balance is a mythical bar that we hold over our own heads, and just when we think we're getting close, someone moves the bar." There are people who make a living trying to "teach" you how to be balanced but the truth is that everything is in flux, and you will always be striving for it yet never obtaining it.
So we use "juggle." As moms with businesses, we juggle. We can't be at 100% as a mom or as a business owner at the same time. We have to give ourselves a break, forgive ourselves for not being "perfect." It isn't about balance, it isn't about perfection, it is about doing our best and having the conversations at home to create the system that works for us. We shouldn't judge others, and we shouldn't let it bother us when other people judge us.
Regarding the economy, Danielle and I haven't encountered many women who are hesitant to start businesses in this economy. In fact, more than ever women are starting businesses from home because of financial motivations. Maybe their husband's job was down-sized, maybe they need the extra income. There is no guaranteed job out there, and childcare can be even more challenging when you have smaller children at home.
So I'd encourage women to reach for business opportunities where they have experience or established leads, to more readily generate revenues that can help support their household. That means if you've been a publicist before and have the skills, start there, then build out your skill set over time to incorporate other services such as copywriting or social media marketing.
What are your favorite apps?
I'm an apps fanatic. I'd divide my apps into utility - the ones that are useful; social - the ones that help me publish and share; and entertainment - the ones that are my little "escapes."
For utility, I use Google Apps a lot, including the iPhone app to access my email, calendar and shared documents. I am using Evernote more and more for everything from taking photos of receipts or whiteboards to voice memos to web clippings. I am also using the Cohuman app to build task lists for each of my projects that I can assign to others and manage from my laptop, iPad or iPhone.
For social, I love Instagram, Twitter and Foursquare. I also like GLMPS, Pinterest, Foodspotting and Trover. And I access Facebook and Google+ through their respective iPhone apps.
For entertainment, I'm hooked on Words With Friends, and usually have 15 to 20 games going at once. I also enjoy Drop7, Muddled, Bookworm, and Bejeweled.
Who or what inspires you each day?
I'm inspired by so many things every day. Being pretty isolated where I live in rural Alaska, I rely heavily on the Internet and NPR for my connection to the world, to the voices of interesting people, to stories, and to ideas.
As a mom who struggled to have a baby, and then struggled after pregnancy for several years, I feel like I'm finally coming into that place of being inspired by my own child. My daughter is 5-years-old now, and the stuff that she thinks about and talks about astounds me. I love her perspective on life, and hope to encourage her creativity, individuality, curiosity. I don't want her to ever feel there are limits.
Being able to create and share what I create and to be able to connect with other people is inspiring to me. The Internet opened my eyes in 1987, and literally changed my life in 1992. I am inspired by the world, really. By people all around the world.
What do you have planned next for 2012?
The next part of the line in my LinkedIn profile after "I am the wearer of many colorful hats" is: "I love reinvention." Every end-of-year, I go through a personal inventory of what I've done, and what else I hope to do. Then I shift gears, move in new directions, choose different paths. I will still bring some of what I've been doing - writing, speaking, consulting - into the New Year, but I'm really interested in finding new ways to share my knowledge with others in ways that are useful and valuable to them.
As a Sagittarius, I see more travel in my future but will also be more mindful of not being apart from my family as much as I was in 2011. So I'll have to be more selective about where I go and why. I'm definitely going to take more advantage of video conferencing and video in general.
And I've been getting hired more and more to create and lead educational webinars about new media, social media, online marketing, and technology - so that fits perfectly into my vision of sharing information in new ways. I used to say in the early days of the Web, "Have modem, will travel." Of course, the 2012 version of that is probably "Have iPhone, iPad, and wifi….can travel or work anywhere."