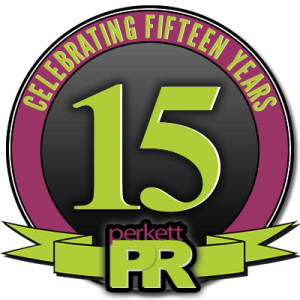 It's hard to believe that this month, PerkettPR has been in business for 15 years! I started the agency with a vision to deliver a unique and valuable experience for companies seeking a better marketing and PR partner. Although we started with a focus on VC-funded startups, we have expanded our expertise over those years to include servicing some great public companies as well – Fleetmatics, Constant Contact, WebEx, Time Warner Telecom, Juniper Networks and many more. We continue to work with startups that need creative, effective and amazing market launches – and to build crediblity, awareness and engagement for more established companies around the world in the tech, higher education, health care and consumer lifestyle industries.
Like any 15-year-old, we've got the energy and excitement to continue with unbridled enthusiasm and a belief that we're unstoppable. Unlike most 15-year-olds, we know who we are, what we want to be and where we're going. That's not only a nice feeling, but a great place to be in order to deliver tremendous value to our clientele. We don't need to be the biggest, but we do strive to be the best. We don't need to be the most popular, but rather we're grateful for the network we do have. (We take great care to support those who support us.) Our corporate vision is to be the most innovative, creative and effective communications partner that our clients have ever worked with.
Thank you to everyone who has believed in that vision – especially clients who have hired us repeatedly over the last decade and a half. To have folks move on to other companies and hire us over and over again is always the best testament to our ability to deliver ROI. I'd like to specifically thank people like Karen Leavitt, John Burnham, Donna Parent, Greg Shenk, Mark Pascarella, Mike Doyle and Jonathan Tang – clients who have not only hired us more than once, but recommended us to others. Thank you to so many industry friends like Jon Swartz, Michael Krigsman, Morris Porter, Stephen Hultquist, Ann Handley, Christen Rice Gentile, Marie Domingo, Mike Pratt, Stephen Dill, Jeremiah Owyang, Rick Faulk, John Jantsch, Joel Libava, Terry Frechette, Robert Scoble, Tyson Goodridge, Sarah Austin, Chris Selland, Aaron Strout, Karen DeWolfe, Dayna Verstegen, Diane Hessan, Kate Brodock, George Hulme, Russell Mix, Jennifer Leggio, Don Dodge, Ramon Ray, Mitch Wagner, Tory Johnson, Michael Arrington, Rachel Happe, Laura Lake and others who have worked with us in various ways over the years – whether writing with or about us, inspiring us through engagement, sharing their opinions on our clients or our campaigns, serving as pseudo mentors and advisors, or simply speaking up on our behalf during times when we could not. Your support – subtle or blatant – has helped us to continue to work with great people and companies, and to learn and grow in a myriad of ways.
There are so many other people – family, friends and of course, current and former employees, even industry "frenemies" – who I am eternally grateful to for helping us reach this 15th year. I have learned from each of you – both good and hard lessons – and I am grateful for such a strong network of intelligent people to learn from every day. I am also very blessed to have such a great group of employees – many of whom have stayed with PerkettPR for more than half of its life! And anyone one who knows the typical retention rate of an agency, knows why that's such an amazing attribute.
Speaking of our employees, a few of them thought it would be funny to celebrate 15 years by sharing awkward teenage photos of us at that age. Click here to Like us on Facebook and see them – and to find out "What we know now that we wish we had known then."
Here's to another 15! Thank you!