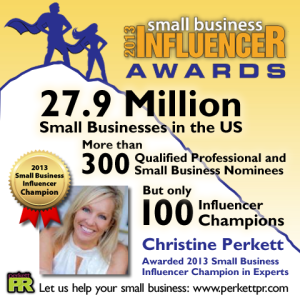 Over the last 20 years, I've been blessed to not only run my own small business, but to work with hundreds of other small business owners, managers and startup founders. I'm fanatical about helping entrepreneurs to reach their career goals by starting, running and growing successful small businesses. Sometimes they grow into very large businesses – and that's fun, too! But the crux of my career has been focused on helping to establish and promote companies in the early stages of their lifecycles, and I really enjoy those challenges.
That's why I was so happy to be honored last week when I was named a Small Business Influencer Top 100 Champion and Expert in the 2013 Small Business Influencer Awards - produced by Small Business Trends, an award-winning online publication, serving over 6,000,000 small business owners, stakeholders and entrepreneurs annually, and SmallBizTechnology.com, a media company that produces online content and live events educating small and mid-sized companies on how to strategically use technology as a tool to grow their businesses. The awards honor those who are influential to small businesses in North America, through the products, services, knowledge, information or support they provide to the small business market.
I'm flattered to be in this list with some former clients (Brainshark, Constant Contact), companies I admire and use daily (Dropbox, American Express OPENForum, Evernote, Etsy, FedEx, Hootsuite, Hubspot, Plantronics, Vistaprint) and industry folks that I admire such as John Jantsch, Laurie McCabe, Dave Kerpen, Larry Kim and Aliza Sherman. Congratulations to all the other winners and honorable mentions, as well as the nominees. I fully support and cheerlead anyone who works in, and strives to help, small business. You can read about all the champions, here.
I simply wanted to say thank you to those who voted for me, the judges and most certainly my team at PerkettPR. They are not only a huge part of making our national clients successful through smart digital marketing and PR, but they are also an inspiration to me every day to keep my own small business innovative, fun and alive.
You can read additional details here, visit the award site or follow along on Twittter by searching #SMBInfluencer.