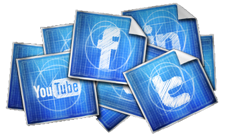 15 Case Studies to Get Your Client On Board With Social Media
This Mashable post from Jonathan Rick provides 15 recent social media case studies along with the underlying principles that went along with their success.
Snackable Content: The Key to Engagement
I first heard the phrase "snackable content" a few years ago. At the time, it stood out as a great way to describe the type of content that brands should be creating and offering up to their online communities. Fast forward to this past week, and once again the term resurfaces and remains just as relevant as you'll see in this MarketingProfs post from Glenn Engler.
Social business holds steady gap behind consumer social media
Dion Hinchcliffe provides a detailed look into the current state of social in the enterprise, complete with stats and links to other resources via this post on ZDNet's Enterprise 2.0 blog.
The importance of being human
Next to listening, adding a human element to your efforts in the social space online is one of the best things you can do for your brand. Francois Gossieaux breaks down the concept of "humanization" and explains whey you should care via this post on iMediaConnection.
How Social Media Users Engage with Marketers on Twitter
This post from eMarketer.com shares some highlights from a recent Lab42 survey that revealed how users react to, follow and engage with brands on Twitter. Perhaps the results prove the need for more humanization?  :)