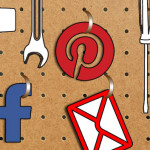 Behind every successful social media marketer is an arsenal of marketing tools that help to ideate, implement, and track the success of a social media campaign. But social media tools are a dime a dozen, and keeping up with the latest offerings can be an overwhelming and frustrating process. Fortunately for us, Social Media Strategist Rebecca Debono has posted her Top 5 hottest social media tools on iMediaConnection.
As a marketer, brand manager, PR practitioner, or executive you have likely figured out that in this new, content-driven, multichannel environment your brand is now, among other things, a content publisher. With more than half of US consumers using smartphones, it is now time to plan your mobile content strategy. MarketingProfs' Frank Sinton gives some helpful tips to get you started in Seven Steps You Can Take to Capitalize on the Mobile Video Viewing Shift
If you are looking at LinkedIn as your next digital marketing project, then don't forget to spend a decent amount of time focusing on your 'company page'. If you are looking for some guidance, then check out LinkedIn Tips and Advice Part 2 – Company Page Optimisation for some sound recommendations provided by Business2Community contributor Kerry Dye.
Social media is 24/7. Someone is always tweeting, posting on Facebook, or uploading a new picture to Instagram. However, for social media managers and businesses alike, this can be quite a challenge. Brianna Smith at Social Media Today explains that there are a couple different ways to determine when your audience is online, and points to an insightful infographic to help you determine the Best Times to Post on Social Media [INFOGRAPHIC].