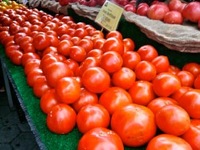 A Tomato Lover's Guide To B2B Social Media
Renegade CEO Drew Neisser creates a great metaphor between B2B Social Media and growing tomatoes in this entertaining read on Media Post's Marketing Daily blog.

Is Your Social Media Strategy Stalling Because You're Not Doing This One Thing?
HubSpot's Dan Zarrella shares some interesting stats and advice on boosting engagement of your content through clear and concise calls to action, in this guest post on CopyBlogger.com.
Can Social Media Improve Your Workers' Productivity?
Contrary to the opinions of many corporate execs, social media can be leveraged to make employee time more productive and less of a time waster. Find out how via this Business Insider post from Ramon Ray & the Smallbiztechnology.com Team.
Take the Grunt Work Out of Monitoring Social Media with mBlast
Take a peek at Diana Huff's review of a pretty cool looking tool for taking care of your social media monitoring tasks. I'm definitely looking forward to kicking the tires on this one.
The New Rules of Marketing and PR
Personal Branding Expert Dan Schawbel interviews author David Meerman Scott about the release of the third edition of his best selling book, The New Rules of Marketing and PR.