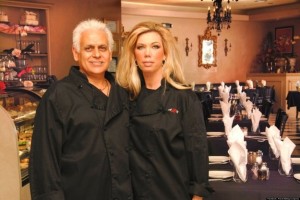 By now most of us have heard of the recent social media meltdown by Amy's Baking Company Bakery Boutique & Bistro owners, Samy and Amy Bouzaglo.
The Scottsdale-based couple was recently featured on an episode of Gordon Ramsay's "Kitchen Nightmares," where, ultimately, the Bouzaglos were allegedly so difficult to work with that Ramsay fired them.
But what started as reality TV fodder unraveled into a crisis communications professional's dream this past week, when they took to the company's Facebook Page to respond to criticism and comments.
Instead of quelling the storm, however, the Bouzaglos only added more fuel to the fire. In their misguided attempts at defending their brand, they provoked exponentially more derision via comments on Reddit and negative reviews on Yelp.
The downward spiral continued (although many of the negative comments have been removed, highlights were documented in this Buzzfeed post) until Amy and Sam seemed ready to wave the white flag by declaring that their Facebook, Yelp, Twitter account, and website had been hacked.
But the next chapter of the saga started when, in an attempt to disassociate itself from the surrounding firestorm, the restaurant opened a new Facebook page and posted an update about the alleged hacking.
Strangely enough, though, the tone and content of the posts on the new page were very similar to the "hacked" comments on the original page. This has only incited further interest from Internet trolls who are still flocking to the page in droves (follower counts went from 2,800 to more than 100,000 at this writing) to follow the drama as it unfolds.
As the tirade continues to make news, many people are calling for the restaurant to close its doors. The incident has certainly sparked conversation amid the PR community about brands and how they handle social media, so we wanted to share a few takeaways on best practices for managing similar situations before they become a national debacle.
Pick your battles. The Bouzaglos attempted to take on the entire Internet, it seems, by responding to every Facebook post and creating fake Reddit accounts to take on commenters there as well. Instead, had they prioritized and responded only to a select number, they could have avoided they angry mob that ensued.
Don't engage trolls. It's a fact of our digital world that some people get their entertainment by being a thorn in others' sides. Instead of feeding into this aggressive group, the Bouzaglos should have had the sense to step away and ignore these commenters, as nothing good comes from interacting with them.
Keep a cool head. Online, as in real life, it's a good rule of thumb to restrain yourself from knee-jerk reactions. Although the Bouzaglos were no doubt feeling attacked, defensive and angry, they would have done well to wait and let their emotions settle before resorting to name-calling, insults and other derogatory language. Remember, everything is permanent once it's posted online.
Finally, be honest…or be prepared to face the consequences. This is the golden rule of social media, PR and marketing. In the case of the alleged hacking, the last thing the Bouzaglos should have said was what they did: "Obviously our Facebook, YELP, Twitter and Website have been hacked. We are working with the local authorities as well as the FBI computer crimes unit to ensure this does not happen again. We did not post those horrible things. Thank You - Amy & Samy." Consumers are very savvy and can sniff out the truth, so other brands would do well to heed this warning, as well.
Got any other words of wisdom for the Bouzaglos? We'd love to hear your thoughts in the comments below!