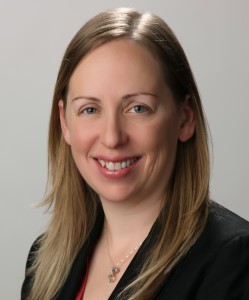 This week's interview is with Kate Gamble, Managing Editor of healthsystemCIO.com.  Gamble has copious experience covering the healthcare IT field, and prior to her role at healthsystemCIO.com, Gamble worked as senior editor of Pharmacy Times. And, earlier, worked with healthsystemCIO.com Editor-in-Chief Anthony Guerra at Healthcare Informatics magazine, ultimately attaining the title of associate managing editor. Gamble has interviewed dozens of CIOs and attended numerous annual conferences such as HIMSS and MGMA, as well as local HIMSS events. We caught up with Gamble and asked her what is currently on top of mind for healthcare CIOs, her background in healthcare and sports journalism and what is next for her for the remainder of 2013.
What is the best part of your job/career?
There are so many things I love about my job. First, I work for someone I truly respect. Anthony Guerra and I are a great team — not just because we see eye-to-eye on many key issues, but also because I know I can speak up when I don't agree with something. I realize how lucky I am to have a job where I'm given complete latitude regarding editorial decisions. The fact that Anthony trusts me to make decisions motivates me to work that much harder. Second, I love being part of the healthcare IT industry during such a transformative and interesting time period. And third, I think it's such a unique privilege to spend so much time speaking to CIOs, the people who are guiding the industry through this evolution.
With the boom in healthcare technology, is it easier or harder to source quality content for healthsystemCIO?
I would say that it's easier to source content — the field of healthcare IT is growing so rapidly. There are always new technologies and new players entering the game and raising the bar. What can be tricky, however, is finding quality content. healthsystemCIO.com adheres to all standard journalistic practices, and we are vigilant about maintaining separation between editorial and advertising. As a result, we've had to decline interviews and contributed pieces on several occasions, but I think it's imperative that we maintain a high standard.
What is one healthcare tech product you think can have a real impact on our healthcare system?
One topic that often comes up in our interviews with CIOs is mobile device management in the hospital and physician practice settings. iPhones have absolutely changed the game. The demand from clinicians became so overwhelming that CIOs had to find a way to enable them to view electronic records on these devices, while ensuring data is protected. Mobile device management now plays a key role in the CIO's strategy. To me, that shows the impact that iPhones have had, and it's only going to grow as more patient-focused apps become available. These devices could also have a significant role in the growing field of telemedicine. It'll be interesting to watch.
In a recent article, you mentioned you're a fan of the Food Network. What other TV captures your attention and why?
My husband and I like to watch HGTV — it's amazing to see how a home can be transformed. It shows what a difference it can make when you use your imagination and think out of the box (of course, it helps to have a crew of designers and builders at your disposal). I also love to watch baseball and football. I've been a big sports fan my whole life and I've found that a lot of the inspiration for my blog posts has come from sports. One piece I'm really proud of compared the leadership styles of NY Giants coach Tom Coughlin and NY Jets coach Rex Ryan.
You interview dozens of healthcare CIOs – what is the single biggest concern they're facing today?
The recurring theme in many of the interviews I've conducted is that CIOs simply have too much on their plates. With deadlines looming for federal incentive programs, organizations are being asked to accomplish so much, and in such a short timeframe — all while staying under budget. Specifically, one of the biggest challenges for CIOs is being able to recruit and retain top IT talent. The demand far outweighs the supply.
Have you always worked in healthcare media? Why? 
No – I actually worked in the newspaper industry for several years, mostly as a sports writer, and the experience I gained was invaluable. In the newspaper environment, there is no room for error. Editors are tough, deadlines are extremely tight, and if you make a mistake, there's no erasing it (and no hiding from an angry coach or parent). I loved the energy in the newsroom, but I wanted to explore other areas of writing. I kind of "fell into" healthcare writing and I've never looked back. I feel so privileged to be part of such a rapidly evolving industry. The digitization of health records is changing the way care is delivered, and to have a front-row seat is amazing.
It seems nearly every publication these days is moving toward a contributed content model at least to some degree. Do you view this as a good thing for the industry or not?
I view it as a positive; however, I think it's critical that publications hold themselves to high standards and ensure that all content — whether it comes from an outside source or a staff-writer — is useful and interesting to the reader, contains accurate information, and is free of any conflicts of interest.
What is next for you for the remainder of 2013?
Our goals at healthsystemCIO.com are to further expand our CIO audience and continue to produce quality interviews, publish solid contributed pieces, and grow our webinar program. I truly believe that we offer a unique product that serves as a resource to key decision-makers. On a personal level, I hope to work toward being a better mom (to my 1-year-old twins) and wife (to my husband Dan), and hopefully, watch the Giants make another run at it.