Jason Miller serves as senior manager, social media strategy at Marketo. He leads the company's social media efforts, focusing on optimizing social for lead generation and driving revenue. He is a regular contributor to leading marketing blogs, such as Social Media Examiner, Social Media Today and Marketing Profs.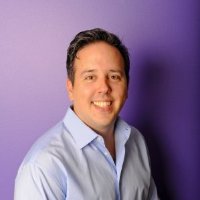 Pick one: Beer, Wine, Soda, Juice, Coffee, Tea  or Water?
I don't always drink beer, but when I do, I prefer Stella.
In addition to your social media strategist position by day, you are also a rock music photographer by night. What is the one band you haven't seen live yet that you would love to photograph?
I have been fortunate enough to photograph many of my favorites including The Cult, Guns N Roses, Motley Crue, Keane, etc. But I am missing one, and that would be Cheap Trick. Their management company has ignored my requests for some reason, but there are two shows coming up here in The Bay Area that I will be attending so I am hoping they respond accordingly this time. It's free PR for them, so I am very surprised to see them pass up the opportunity.
What parallels in skill sets can you draw from photographer & entertainment writer to the social media magic maker you are today?
Creativity, striving for perfection and the freedom to try new things. Social media marketing is all about how creative you can get while selling to your customers and prospects without selling. There's a great quote from marketing mastermind Gene Simmons that I always go back to: "We need the people to like what we do. The more they like us, the more they will buy." That's been his philosophy regarding KISS and their worldwide domination, but it also applies very well to a company's social media strategy. The mentality of 'always be closing,' needs to change to 'always be helping.'
In your recent AMA webinar on the topic of Social Media for Lead generation you spoke about "getting out there and trying things." What 'things' do you recommend trying first to increase engagement?
By 'things' I essentially mean trial and error. Social channels are simply another touch point between you and your customers and prospects. They move in real time and what works for one business may not work for the other. The idea here is to find success stories and strategies, then make them your own by adjusting the tactics to your audience. Many of your early social campaigns will indeed fail, and that's ok. The key here is patience and not giving up too early.
How do you keep up with all of your different social networks ? What processes or tools do you have in place to make it easier?
It is challenging, to say the least. Hootsuite is essential for managing multiple social networks, but I really love reading blogs. With the looming death of Google Reader, I have switched over to Feedly to aggregate and read the blogs that I love. Flipboard is also a great option when I want a fully-integrated social feed in a magazine-style format, the only problem there is the filtering. But they are getting much better.
You talked a bit about LinkedIn as a critical social tool for lead generation, and it has certainly improved in the recent months. What do you see as the most valuable way for a business to use LinkedIn?
The most valuable way businesses can use LinkedIn right now is for prospecting, listening and building credibility. There is a cornucopia of insights within the platform, if you know how to set up saved searched-around keywords. There is also a tremendous opportunity to engage with super relevant conversations within the newsfeed and LI groups. I am really excited to see the new products that will be coming from LinkedIn for marketers in the coming months, as I believe they are just getting started.
You also mentioned Facebook as being an important lead generation tool no matter the kind of business you are in. Can you explain why that is the case?
The bottom line here is that if your business or brand, regardless of the niche you are in, doesn't have a presence on Facebook, you are simply missing opportunities. There are more than one billion people on Facebook; if you think your customers, prospects and decision makers are not there, you are wrong. The important thing to remember is that in the world of B2B marketing, your customers and prospects are not on social to be sold to. Entertain them, tell them a story, give them something to share, help them along the way, and when it comes time for them to purchase, your company will likely be top of mind.
Measuring success is always important to any marketing initiative and tying our work with social back to lead generation is no different. For a small business that may not be able to afford a Radian6 or Marketo right now, what metrics do you recommend looking at beyond likes, shares and follows to determine campaign success. Are there any good free tools that go beyond the average vanity measurements?
That's a great question. For a small business or anyone just getting started, I would recommend something simple but super effective such as Sprout Social. It's a pretty decent all-around social tool and provides a nice foundation for anyone looking for a quick snapshot of the social-sphere around their business. Once you begin to get a bit more serious around your social measurement of lead gen opportunities, then you need to start tracking social as a lead source, along with referring traffic and conversions from social. You can do that with Google Analytics. The main thing to keep in mind is that when you start seeing leads come in from social, they are almost never ready to buy. You need to have a lead nurturing process in place, and that's where marketing automation really shines.
We work some amazing and dynamic marketers and CEOs with fantastic ideas, but sometimes best intentions for writing don't seem to happen. What is your best tip for inspiring busy executives to crank out the blog posts?
Easy. Go to lunch with them and ask them questions. Record the conversation, then have it transcribed via TranscriptionStar or a similar service. You can extrapolate from there and possibly even have two or three posts from one conversation.
As an aspiring comedian, would you please share the funniest social media update you ever posted or remember seeing across your networks? 
I don't know if it's as funny as it is disturbing, but I once tweeted that I woke up one morning still unable to forgive George Lucas for introducing Jar Jar Binks to the world. Somehow it got retweeted tens of thousands of times, and I ranked as the number one influencer for Jar Jar Binks on Klout.
Interested in learning more? Please leave any questions or comments for Jason below.  You can also catch up with him on the Marketo blog or follow him on Twitter.