Posted on July 19, 2012 by Christine Perkett
Filed Under Best Practices | Leave a Comment
In these days of social media madness and online relationships, it can take even more work to be sure that who you're talking to is genuine, qualified and credible. I've noticed that people ask for things online in a more bold way than they used to, when face-to-face relationships ruled. Just this week I've been asked to write references for people I don't know, link to and "check out and promote" several products - ranging from consumer goods and business apps, to social media training services – all of which I've never tried (PS you know this is what companies pay me to do, right?), and to make introductions for someone to another person who I'm not even connected with or know. What is it about digital relationships that make people so bold? How much clout do you give referrals or recommendations on networking communities and online reputation graders such as Klout, BranchOut, RateStars, Namyz and countless others? How do you handle it when a near (or total) stranger asks for a referral or other validation? Sometimes you might not even think too much about it because social networks make it so easy to just provide a recommendation without really thinking it through.
Managing your personal brand is important, yes. Ensuring your online activity is of positive quality - absolutely essential in business. Showcasing a robust online "rolodex" and "Klout score" is also key for most business professionals – especially in social marketing. But asking for and displaying recommendations or "references" from folks that really don't know you or your work is a little misleading – and in my opinion, getting to become a disturbing "norm." Asking for an introduction is one thing, but introductions, referrals, recommendations and references are not created equally. Do you know the difference?
Introduction – offering to introduce someone to a professional who works in a certain industry or could provide services that a company is seeking. Perhaps you just know of them and are connecting them with someone seeking vendors.
Referral – similar to an introduction, a referral could include someone you haven't worked with, as long as you make that clear, such as, "I see you are seeking a socially savvy PR firm. I have heard that PerkettPR is great, although I've never personally worked with them." These are also often made as a result of being connected online in communities such as Namyz or BranchOut.
Recommendation – usually involves knowing the work of a particular person, company or product, such as "I recommend PerkettPR because I've seen their digital work and am always impressed," or "I tried this product and it worked for me." Recommendations are big on Linkedin – but it's important to note that many times people ask others to provide them without actually having worked together. It's kind of like "link love" - I'll give you one if you give me one. Make sure it's a legit recommendation.
Reference – this is key. A reference is usually what someone asks for when they've been through all of the above… Such as, "Okay, I was introduced or referred to you, I received or read a few recommendations from folks in the industry who know of you and have seen your work, now I'd like to talk to someone who has actually worked with you and can talk to the results that you delivered, your work style, etc."
And why should you care? I can think of a few reasons – both personal and professional:
Are you hiring employees?
Qualifying a vendor?
Hiring a services firm (like PR)?
Comparing products?
These are important business developments and should be vetted appropriately. Make sure you know the difference between someone providing a recommended vendor or individual based on word of mouth, and an actual reference based on experience. Online relationships have blurred the lines and sometimes people are providing recommendations to others just for popularity points, unfortunately. Be sure that you speak to actual references when hiring an employee, vendor or services firm, especially. The online world can still be misleading.
I also suggest doing some of your own digging to find people or companies who have worked with the person or vendor before - that aren't on their reference list. For example, if you're seeking a new PR firm, Google who a specific firm has worked with and reach out to someone there to ask about their experience. Sometimes the unlisted references are the best references.
Tags: branchout, hiring, Hiring a PR firm, hr, Klout, LinkedIn, namyz, online reputation management, RateStars, reference checks, referrals
Posted on July 16, 2012 by Jennifer Hellickson
Filed Under Best Practices | Leave a Comment
We've all been there before: Under an impossibly-tight deadline, in front of a blank page, hypnotized by the unrelenting blinking cursor staring back at you. You're desperate for inspiration to hit and the words to start flowing, yet the harder you try to force it, the more frustrated you become, thus perpetuating the vicious cycle otherwise known as "writer's block."
It's no secret that some of the best writing comes from having the ability to let your mind wander to more creative places…but when you don't have the luxury of time during a busy work day, what's a pressed PR person to do?
First, know there are no shortcuts or surefire routes to producing good copy; it will take a bit of time, effort and good old-fashioned concentration (something that can be tougher and tougher to come by in today's age of 140-character attention spans!). But on the flip side, also know that it is possible to regain your writing groove, regardless of any momentary lapse in ability.
Here are five of my favorite tips for unblocking the writer within:
Move. I'm not talking about the pack-up-your-house kind, but the need for a change in location if you feel "stuck" in one spot. Whether it's across the room, out of the office or through town to your favorite coffee shop, a fresh perspective and some new scenery can work wonders.
Unplug. I know, I know; this might as well be a four-letter word in PR. But try turning off your phone, waiting to respond to email and closing down other distractions on your desktop – just for a bit. I promise you'll be amazed by how much you can accomplish in a short amount of time without constantly trying to multitask.
Condition. Much like Pavlov's dog, we can often train ourselves by pairing one stimulus with another. Have a spot in which you've been super productive before? Save it for when you need to get important work done, and eventually you'll associate being there with tackling even the most complex projects with abandon.
Listen. Some people need silence to get work done, while others need to drown out the thoughts bouncing around in their heads. Whether it's to the silence of an empty room, the ebb and flow of instrumental music or the energy of top 40 tunes, go with whichever noise strategy works for you. I happen to prefer classic rock and 90's hits at a low volume for background noise, for example - so keep turning that dial until you hit on something that strikes a chord.
Experiment. Everyone's writing process is different. If something isn't working for you, don't force a round peg into a square hole; instead, try another approach. And if that doesn't work, try something else until you eventually stumble upon something that does work for you. But whatever you do, don't stop investigating new avenues to unleash your inner creativity.
Have any other tips to share? We'd love to hear them in the comments below.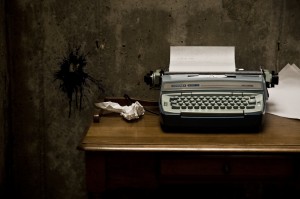 Tags: Marketing, PR, PR best practices, writer's block, Writing
Posted on July 12, 2012 by Susan Sweenie
Filed Under Interviews, Women in Business & Tech | 3 Comments
This week's influencer interview is with the ever-popular Sarah Evans. Sarah Evans (@prsarahevans) is the Chief Evangelist at Tracky (www.tracky.com), an open social collaboration platform, and owner of Sevans Strategy, a new media consultancy.  It's her personal mission—to engage and employ the use of emerging technologies in all communication—that connects her with a rapidly growing base of more than 120,000 people.
A self-described "social media freak," Sarah initiated and moderates #journchat, the weekly live chat between PR professionals, journalists and bloggers on the microblogging platform, Twitter.
Sarah shares her social media and tech favorites on Sarah's Faves (sarahsfav.es) as well as a daily resource for PR professionals called Commentz.
Sarah previously worked with a local crisis center to raise more than $161,000 via social media and is a team member of the Guiness Book World Record-holding team, #beatcancer.
Sarah can be seen in Vanity Fair's America's Tweethearts, Forbes' 14 Power Women to Follow on Twitter and Entrepreneur's Top 10 Hot Startups of 2010.
We caught up with this busy entrepreneur and asked her some questions about her favorite social networks, how she grew her business and what she is passionate about.
If you had to choose one social network to use which one would it be and why?
I prefer Instagram (with a direct feed to Twitter and Facebook, LOL). I'm a visual learner and also feel more connected to people through their photos. Instagram allows me a way to share photos in a fun way, let people know where I'm at (i.e. location), add a caption and share the post across other networks.
And, although, it's not a social network, my employer Tracky (www.tracky.com) is ahead of the game in celebrating all that is good in open, social collaboration.
You have had some interesting clients. Which one has been your favorite and why?
I've loved working with all of our clients, most recently taking on the role as Chief Evangelist of Tracky, an open social collaboration platform. Asking a PR person to choose a "fave" is tough! I have to go with my current role. I've spent so much time promoting and writing about tech startups that I ended up working directly with one. In fact, I'm relocating my entire family to Las Vegas to take on this latest adventure. That's how much I believe in the platform. In my life, I don't do anything unless it's 100 percent. Tracky is my favorite because co-founders David and Jennifer Gosse not only eat, breathe and sleep the platform, they are passionate about creating a better way for people to get things done (#GTD).
What blogs/newspapers/magazines do you read daily?
If I gave you the entire list, it might make your head spin. ;) I keep a blog roll over at Sarah's Faves (http://sarahsfav.es) where people can see my favorite media outlets. Here are a few:
How do I keep up with all them you might ask? For each, I use a combination of its tasks, emails and mobile Twitter alerts. All of these outlets are set up so that I see what they post real-time from my phone.
You grew your PR consultancy pretty quickly. What was your strategy and how did you make it happen?
From the outside (or social side) it probably appeared "very fast." However, a lot of work was put in behind-the-scenes for a few years. In fact, for at least a year I was both working a full-time day job and freelancing in the evenings and on weekends.
My strategy?
1. Build a network when I don't need one.
2. If I couldn't get experience I needed in my day job, hustle to get it off the clock.
3. Have at least three clients on retainer by the time I started the business.
What PR campaign in social media has been successful this year? Why and how did it become successful?
There are so very many. Is it cliché to once again say I can't pick one? What I can do is share the attributes I believe made many successful:
They disrupt. Think a bit of "not playing it safe," mixed with a different or better way of doing things. Even klouchebag.com challenged the status quo and got some good press.
They allow people to do these three things: personalize, participate and portable (i.e. available on mobile).
They have a lot of time and money behind them. The most successful integrated marketing and communications campaigns typically have either a lot of time or money (or both) backing them. Granted it takes talent to put them together, but again that means time and money.
Can you tell us a little about Sarah's Faves?
Boy, can I. Sarah's Faves is my latest passion project. I think my tagline sums it up, "All my geeky favorites, in one nerdtastic place." I only write about things I really like and think others would, too. It's a personal recommendation site.
What are you passionate about outside of work?
My family, including my husband, 10-month-old son and our two furry babies. Sleep. Fashion.
What is next for you in 2012?
A big cross country move to Las Vegas.
More speaking and interacting with others passionate about social media and technology.
A new web show called Track Stars I'll be shooting inside the Switch SuperNAP.
A few surprises I can't mention right now. ;)
Tags: Chief Evangelist, entrepreneur, journchat, prsarahevans, Sarah Evans, Social Media & Networking, Tracky, Vegas tech
Posted on July 11, 2012 by Christine Perkett
Filed Under Events, Marketing | 1 Comment
Last night I was fortunate enough to make my way with Heather Mosley to deCordova Museum in Lincoln, MA for Marketing Profs Smart Marketers Tour – Boston. In addition to a gorgeous venue and evening, the crowd was lively and the speakers – interviewed by Matt Grant of Marketing Profs – were excellent. I'm also a big fan of Marketing Profs Chief Evangelist, Ann Handley – so anytime I get to see her and chat for even a minute is a bonus.
As a former Harvard Square resident, I was very interested to hear the lessons learned – and continued innovations of – Harvard Bookstore's Jeff Mayersohn, who bought the store in 2008. He talked about the challenges of buying a book and mortar business in an industry that has been rumored to be dying. He mentioned that many people told him he was "insane" - and I believe it is that kind of insanity that helps us reach disruption. You also have to be a little bit crazy to be an entrepreneur – it's the only way to survive. Jeff's craziness has obviously paid off, as the business has doubled its growth under his tenure, through online marketing, innovative events and unique offerings such as the Expresso Book Machine, which prints any book in just five minutes. In addition to his interesting tales of business and marketing success, Jeff reminded us why technology isn't going to replace books but rather, can enhance the experience of reading and buying them. He had plenty of powerful and interesting quotes that rang true for me, such as "When you go into a bookstore, the best experience is finding a book you didn't know existed but you just have to read." He's right – it's akin to any online shopping for me, really. Online is about speed and convenience, but it is never as fun as going into a funky store draped in goodies that I can touch, feel, try out and discover.
The second guest was Lou Imbriano, the former vice president and chief marketing officer of the New England Patriots and current president and CEO of TrinityOne, a marketing strategy and business advisory consultancy, and author of Winning the Customer. Lou is a character. In addition to his self proclaimed "freakin' brilliant" marketing ideas, he is chock full of sound bytes that had everyone Tweeting away during his interview. Lou took it well when members of the audience chided him a bit for touting his success for an organization that has different challenges – and deeper pockets – than most traditional marketers face. Nonetheless, Lou gave us interesting insight into his experiences in marketing a beloved brand through good seasons and bad, and how he continued to create new milestones for himself and his marketing team to surpass. I also loved that he talked about teaching everyone in the organization why marketing matters. In fact, one of his most controversial quotes of the night was,
"Everyone works for marketing; everyone needs to be a custodian of the brand."
Now, non-marketers might not like this. Sales, HR, customer service, maybe even the C-Suite might take offense. But if they can set aside their egos for a minute and think about it, they'll realize that although not technically accurate, it's true. And of course, marketing works for every division in the company as well. Lou had some of his own great examples of this – such as the receptionist of the Boston Red Sox answering the phone in a shrill voice and having someone have that as their first interaction with the brand. I've said before in previous posts that marketing's work is wiped out if the other departments of a company don't hold up to and follow through on the promises marketing publicly makes to customers and prospects every day. Marketing can work consistently to develop a beloved brand, but no doubt that even one bad customer service experience can tarnish all that hard work faster that you can say "Twitter."
In fact, I had my own such experience on the way to the event. I had recently received a new credit card from TJX – after many trips to Marshalls and as a self-proclaimed "Maxxinista," they finally convinced me to open a rewards card useable across their stores. So while driving to the MP event, I called to activate my card. Only I couldn't because they kept telling me that my birth date was inaccurate. (Um, no.) After 15 excruciatingly frustrating minutes of just trying to get off with the computerized system and on with an actual human being, I finally explained the situation and thought surely, this customer service rep could help. I was sure she'd recognize that human error on their end (inputting my DOB into their system incorrectly) meant they should run my social security number and see that they indeed had my DOB wrong, and simply fix it so I could activate my card. But no, this woman explained to me that it would a multiple step process on my end to fax in a bunch of information in order to fix this issue that was their mistake. By this point, I was beyond agitated and explained to her that I thought it was ridiculous to put the customer through all of these extra steps when 1) the error was clearly on their end and 2) they could run my ss# and all other details and confirm that they indeed have my DOB wrong and simply fix it. She didn't seem to care that I was frustrated and just offered to cancel the card. That further irritated me because anyone knows that opening and closing credit cards haphazardly can negatively affect your credit rating. Furthermore, I found it absolutely ludicrous that in the end she actually did offer to activate the card for me – but told me I couldn't pay it online or access my rewards. In other words, without my correct DOB I can still spend and shop with the card – but I CAN'T PAY YOU in the fastest, easy way possible (online)?
This experience - a cumulative 20 minutes – just tainted my feelings about the TJX brand even though technically, it's probably the financial institution behind the card that is to blame (well them, and the woman behind the counter at Marshalls that made the error in the first place and is thus causing me this massive headache just to SPEND MONEY WITH TJX). Case in point – even your partners work for your marketing department. This partner of TJX left a bad taste in my mouth for going back in and spending more money with them any time soon.
So, what Lou said resonates with me – and it should resonate with you. You likely pay a lot to market your company, product and brand. Why not let other departments recognize their role in "working for marketing" - upholding those brand promises in every single interaction they have with customers? From the customer service rep to the receptionist, intern at a networking event to CEO speaking at a major conference, everyone does indeed have an impact on the marketing of your brand.
Thanks for the soundbytes, Lou, and for a great event with many fascinating lessons, Marketing Profs!
Tags: Ann Handley, deCordova Museum, Harvard Books, Jeff Mayersohn, Lou Imbriano, marketing lessons, Marketing Profs, Marshalls, mptour, New England Patriots, Smart Marketers, TJMaxx, TJX
Posted on July 6, 2012 by Vic Miller
Filed Under Persuasive Picks | Leave a Comment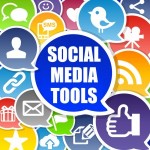 As the business of social media continues to grow, social media tools - and the marketers who use them - are expanding their reach into nearly every social media network they can find. Brian Proffitt at ReadWriteWeb provides some insight as to Why You Can't Escape Social Media Marketing Any More.
Over the last few months Facebook has come out with a raft of changes, feature enhancements and new releases. While it can be tough to keep up with all these changes, Samuel Junghenn of SocialMediaToday has highlighted some of the most important changes and how they could affect your business in Facebook's Latest Changes - A Recap.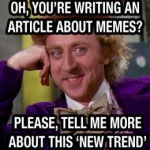 With the rapid proliferation of social media and social media channels, there's been an equally as rapid growth in the creation of memes. While memes tend to be light-hearted, when done well, they can pack a serious marketing punch. Mike Lewis of BostInno provides some tips in How to Use Memes to Create Social Media Engagement.
Each advancement in social media brings new methods for measuring digital campaign performance. But which tools are the right ones, and should we be measuring the same metrics we were 2-3 years ago? How should marketers be leveraging data-driven insights to assess, plan, and allocate budget across channels, publishers, and ads? Rachelle Considine provides some New tips for measuring digital ROI on iMediaConnection.
Tags: BostInno, Brian Proffitt, Facebook, iMediaConnection, meme, Mike Lewis, Rachelle Considine, Read/WriteWeb, Samuel Junghenn, Social Media, Social Media & Marketing, Social Media Engagement, social media ROI, social media tools, SocialMediaToday
keep looking »