Posted on June 17, 2013 by Jennifer Hellickson
Filed Under Best Practices, Public Relations | Leave a Comment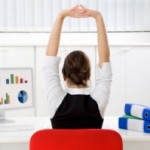 Between client deadlines, monitoring headlines – and everything in between – regular gym visits all too often slip down (or completely off) a PR person's daily to-do list.
But this lack – or total absence – of activity is serious business: According to this infographic by Medical Billing & Coding, most of us spend more time on our behinds (9.3 hours per day) than in bed (7.7 hours a day), and this sedentary lifestyle (i.e. sitting for more than six hours a day) can increase your risk of death up to 40 percent.
Wait…what? Yes, simply put, the more you sit, the shorter your lifespan, which is a very scary prospect.
But the good news is there's something we can do about it. Even if squeezing in an hour-long sweat session into your day isn't feasible, there's still hope for staying in shape. By incorporating short bursts of exercise into your day, it's easy to increase your overall level of physical activity and help stave off things like obesity and cardiovascular disease.
This doesn't have to involve sprinting around the office so you arrive sweaty to meetings, however; keep it simple and gradually work your way up to more movement as your body adapts.
Here are a few simple desk exercises to get you started.
Chair Dips. Sit on the edge of your office chair (without wheels is best!) and place your hands on the edge of the seat, fingers facing your body. Slowly lift off the seat, and lower your body toward the floor, bending elbows into a 90-degree angle. Push yourself up, using your triceps.
Plank. Work your entire core by positioning yourself, facing down, with both hands and toes on the floor (like the upper part of a push-up). Keep back straight, and pull your belly button upward to engage abs. Hold for one minute.
Lunges & Squats. In the comfort of your cubicle, time yourself for 30-second sets that combine stationary lunges (alternating sides) with squats to wake up your entire lower body.
Incline Pushups. Stand a few feet away from your desk, placing both hands on the edge. Carefully lower yourself so your chest is a few inches from the top of the desk, before pushing back up to engage your chest, arms and upper back.
"Pushouts." Stretch your back and strengthen your biceps by sitting in your chair (a rolling one this time!) and grasping the edge of your desk. Slowly push back until your head is between your arms and you're looking at the floor, and then pull yourself back in.
Perform three rounds of each exercise with 10 reps each (and just three one-minute segments of the plank) for a complete workout, or break it down and do one exercise at a time throughout the day.
What are you waiting for? Get off that heiney and on the road to better health!
Comments