Posted on May 3, 2013 by Susan Sweenie
Filed Under Interviews | Leave a Comment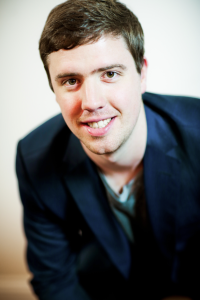 This week's "Effective Executive" interview is with Eliot Buchanan, Co-Founder and CEO of Plastiq, an online service that allows people to use their credit cards to pay for things when they couldn't before. We asked Eliot about his early days building the Company, the challenges he has encountered and what he is passionate about.
As you worked to build Plastiq, how long did the entire process take?
I would say the first two years at Plastiq were spent almost exclusively on building and testing the business concept, talking with customers, understanding the marketplace, and building relationships. Like many industries - though perhaps even more so in financial services - forming key relationships in the marketplace is one of the biggest assets (or, if lacking, drawbacks) of an early stage venture like ours. For us, this was true from the very beginning. We were very focused and invested heavily in building social capital with the ecosystem before even asking (and getting) that ecosystem to adopt our product.
What obstacles or challenges did you encounter in the earlier days of Plastiq?
There were many. I've always said that the most exciting time in an early company is the first month or so. That's when you think you have the best idea in the world that needs no money, will scale infinitely, is without competition, and you estimate that you can sell it for a billion dollars. After the first month, reality starts to set in, and various roadblocks happen. I'm sure these feelings are comparable for other companies that are driving disruption and innovating within an industry.
I think what has allowed Plastiq to thrive, however, is that we have embraced each of these roadblocks as a challenge and this has fueled important and necessary change. Perhaps a competitor had highlighted an important aspect of the ecosystem that we missed in our early days, but which we only now learned unexpectedly. Or take the need for capital. Any entrepreneur's toughest challenge can be raising money. But through that process of pitching and speaking to hundreds of people - each of whom was a potential customer of my product as well - I was able to learn so much about how I could describe my own business to different audiences. This allowed me to better align myself, understand various challenges, and strive to improve them.
Another aspect worth mentioning - and I suspect it's universal to the start up process - is the true daily rollercoaster ride. I am confident that no one except the entrepreneur experiences as many ups and downs in a single day. But it is also this same process that can lead to building the grit and character required to creating something big. This has been true of Plastiq since day 1 and it absolutely remains true today.
Can you describe how your Harvard education prepared you for your role today, leading the company and being its strategic advisor/visionary?
I get this question a lot, and I generally think about my time at Harvard with some frequency. I suspect this is because I enjoyed my experience there. I think there are two aspects worth mentioning.
First, in terms of formal preparation, I would strictly say that Harvard offered no formal education that applied directly to what I am doing at Plastiq, or any business for that matter. Before you raise concerns about the Ivy League education system, let me clarify my statement a bit further. Harvard is a liberal arts college, and it focuses on teaching students to appreciate a broad range of interests and perspectives. This established a foundation that allows the thought and reflection necessary to be "creative" and innovate or go outside established boxes.
In fact, formality, in this respect, would be the exact opposite of what – in my view – would engender entrepreneurship. The academic informality at Harvard (and I'm not saying it's perfect) encouraged me to think more as a "generalist" rather than a "specialist", and pushed me to better understand what I wanted to do, what needed to change in the world, what could be improved, and what mattered or didn't matter to me.
The second aspect is all about people and character. This is not unique to Harvard but more broadly any successful "college" experience. While at Harvard, I was surrounded by incredible people. Challenging people. Some people I didn't like (that's life). And others I didn't understand (that's growth). Whether it was my roommates, classmates, or teammates (I was on the varsity squash team), I found myself constantly challenged and pushed to become a leader, to get along with others, to learn from them, admire them, cherish them, and help them. Some of my hardest days as a college student were learning seemingly basic skill sets within a team setting. It's extremely difficult for me to sit here today and imagine how I could be leading a group of talented executives without having gained a hands-on "education" about people - their strengths and flaws - as well as my own while I was in college.
Can you explain what you feel it means to be a true "entrepreneur"?
In my view, an entrepreneur is a leader of change and a motivator of trust in others to carry out that change or at least respect that it is happening without them and around them. In this respect there is no financial instrument linked to the definition of "entrepreneur" or their outcome, and we see many "entrepreneurs" in non-business pillars (presidents, activists, religious leaders, sports icons – these are all entrepreneurial in many of their aspects). Entrepreneurs in any "field" must all lead people through the toughest moments. They will always have many doubters, a lot of competition for their business or at least their attention, and they must always be "on" no matter what time of day it is–where they are, or who they are with. The world - or at least their world - is ceaselessly watching.
In terms of "serial" entrepreneurs, I don't really appreciate the term, as it focuses too much on the "business" and a quantification of success. I think, at least in my view, one only becomes an entrepreneur after one has been through a number of ventures, and in thus the very "serial" nature of the term is really a pre-requisite to being a "true entrepreneur."
Being part of many other ventures, do you enjoy the start up culture? Why or why not?
I've always been a self-starter and have consistently been drawn to solving problems, taking risks, and I'm never afraid to "try the new." There are many things I love about being in an early stage company, but suffice it to say, I had a normal 9-5 job once and lasted only a few weeks (probably because I wasn't qualified).
I think what I enjoy most about the environment I am currently in is the people; each day I am forced to be a better leader – even a better person – in order to move the company and our vision forward. I never thought leading and motivating could be all I do in a day while still being exhausted, satisfied, and ready to wake up the next day – eagerly – at 5am. It doesn't quite make sense, except perhaps in the start up world. That's a neat feeling and it's a lot of fun.
Outside of work, what else are you passionate about? hobbies?
Being an entrepreneur, my list will be noticeably short…
I was a big squash player in my younger days as well as in university. I'm slowly getting back into the sport, which I enjoy very much. I like traveling and the outdoors – my former college roommates and I do a multiday backpacking trip each year ever since we graduated.
What is next for Plastiq for the remainder of 2013?
If I told you I'd have to kill you (kidding). One of the things I enjoy most about our company and my team is our somewhat paradoxical obsession of laying low and being patient but then ultimately going out with unprecedented scale and impact in everything we do. This doesn't mean we wait until we get everything right (mistakes are, after all, the ingredients of success for an entrepreneur), but rather that we feel comfortable in our own skin and like being humble, before ultimately letting the world know that we've abruptly taken over a marketplace.
2013 is no different. For the first quarter most of my team was universally focused on a single goal, while the broader market would have probably asked, "sorry, who is Plastiq?" At the end of March, we launched our product that addressed the largest payment opportunity in Canadian history, and was the first and only provider to allow tax payments for all Canadians on any credit card of their choice.
What I will say about the remainder of 2013 is that the March launch for tax was not about "pay your taxes", but was more about "welcome to Plastiq." We have a lot more in store.
CEO
,
Co-founder
,
credit
,
credit cards
,
Eliot Buchanan
,
entrepreneur
,
executive
,
Harvard
,
interview
,
Plastiq
,
startups
Comments