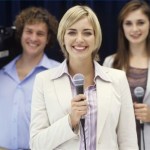 Calling all future PR pros! Test your storytelling chops in a new video contest called, "Take Flight with PR," launched this week by the Council of Public Relations Firms (Council), our industry's trade association.
Contestants are invited to choose an interest, idea or passion they have, showing in their videos how a career in public relations would enable them to bring their dream to life. In particular, the Council is searching for the best video that most persuasively, and creatively, finishes this sentence:
"A Career in PR is an opportunity for me to: _______________."
The contest is aimed at showcasing the multitude of careers possible at public relations firms, including career paths in brand marketing, public advocacy, video production, design, and more.
Submissions are being accepted from now until June 28, and then crowd-sourced voting will determine nine finalists, plus one "critic's choice," who will advance to the final round to be judged by a panel of PR pros.
Prizes will include a $2,500 cash prize, an expense paid trip to New York City for the winning video's premiere at the Council's Oct. 23 member dinner and online visibility on prfirms.org.
"It is critically important that we as an industry continue to educate the next generation of PR practitioners about the many career opportunities that exist in our business," said Kathy Cripps, president of the Council of Public Relations Firms. "When it comes to finding the best people, we can't be complacent. We need cutting-edge talent across disciplines to push our industry to new heights. We hope this video contest showcases both memorable creativity and great future PR talent."